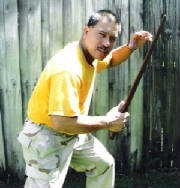 Stick Grappling and Baiting Seminar 2004
Covers entering to grappling applications and basic baiting techniques.
30 minutes.
Latigo ng Cabayo (Horse Whip)
Covers history, care and maintenance, and basic striking. There are also special sections on combat whips and cutting demonstrations.
30 minutes
Espada y Daga
Covers Basic Espada y Daga work.
30 minutes




Coming Soon...
(Now Taking Pre-Orders)
Ormond Beach Seminar, Spring 2005
This is a Basic Skills Seminar that covers Single Stick, Empty Hand and Knife. Great for those new to Filipino Martial Arts.